The Extraordinary Vive LA Experience
The Extraordinary Vive LA Experience
by Vive LA Team June 15th, 2021
Are you considering making a move? If you are heading to Los Angeles, you're going to want to check out Vive LA. The apartments available among Vive LA's varied locations are among the most appealing to those who want to experience all that LA has to offer. As the Vive LA group likes to say:
"We want you to have your hub for an inspired life. Live in our beautiful Hollywood apartments where neighbors are friends and dreams are yours to chase."
Take a Look at Our Neighborhoods
The areas where we offer outstanding apartments include:
Koreatown
Beverly Hills
Hollywood
Echo Park
Highland Park
Encino
Los Angeles
West LA
Sherman Oaks
West Hollywood
Silver Lake
Thousand Oaks
Each of these neighborhoods is a reflection of the vibrant energy and spirit of Southern California. You will find our cozy retreats throughout the Los Angeles area. You might want to know what sets our communities apart from the rest. Just a few of the amenities included in our properties are:
1. An inclusive living experience with an exceptionally high added value.
2. Access to creative communities, the arts, and inclusive demographics.
3. Indie music venues in Echo Park, along with laid-back California lifestyles.
4. Spanish style homes next to beautiful Victorians and proximity to Downtown LA, in Echo Park.
5. Silver Lake, often called one of LA's hippest neighborhoods, is funky, eclectic, and vintage.
6. While looking for classic craftsman homes, many artists and writers find Highland Park to their liking.
7. Beverly Hills is just what you thought it would be. There are luxury retail stores, fine dining, and almost any other LA scene facets you can envision.
8. Thousand Oaks is the place to relax, enjoy nature, hiking, biking, and only 30-minutes from the beaches of Malibu.
9. Looking for the neighborhood filled with glamour, movie history, and architecture that exudes old-school charm? Then you're looking for Hollywood. The city of movie stars offers hiking, biking, and sweeping views of the city.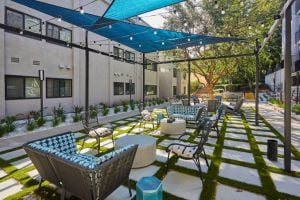 Vive LA Amenities
Adding to all the excitement of these varied and exciting neighborhoods, Vive LA also offers lovely extras for those who choose our properties. For example:
We offer virtual, self-guided, and safe in-person tour options so you can get an up-close and personal look at your potential new home. During the pandemic, the Vive LA team will be available during scheduled business hours to service our residents' needs using phones, email, resident portal, resident app, or other virtual communication forms.
Maintenance staff and property managers are present each day and will continue to be a helpful resource for our tenants. We continue to address essential work orders over the phone, on Facetime, through WhatsApp, and other virtual communication. Tenants may pay their rents through the residential portal and the resident app, as well. ACH fees are always waived.
When you lease your home, our team will cultivate your environment by bringing novelties or information about local hotspots right to your doorsteps. We want your apartment living experience to be one that is the best you have ever experienced. Our resident events vary according to the neighborhood in which you live. Suffice to say, and whichever community is yours, we will introduce you to wine tastings, culinary displays, interactive game nights, and much more interactive fun.
If you decide to move to another Vive LA community, our loyalty program may waive your move-over cleaning fees, and you could receive a $500 gift to use towards moving expenses. Additionally, if you refer someone to one of our properties, our Vive LA community will not only grow, but we will also reward you with up to $500.
Vive LA
We look forward to showing you the unique settings we offer. Contact us to get the ball rolling and to begin your Vive LA experience.