West Hollywood Neighborhood Guide
West Hollywood Neighborhood Guide
by Vive LA Team March 3rd, 2022
Fast-growing, fabulous, and full of personality, West Hollywood (WeHo) is one of the most vibrant cities in Los Angeles County. This is the home of world-class museums, dining, and shopping; legendary music venues, and a bohemian vibe that is both welcoming and intriguing in equal measure. And when the sun goes down, WeHo boasts some of the most fantastic nightlife you'll ever have the pleasure of experiencing.
If you're new to the neighborhood, or considering moving into one of ViveLA's West Hollywood apartment buildings, here's a look at everything you need to know about life in WeHo.
Small City, Big Energy
WeHo is absolutely its own city in attitude, but it may surprise you to learn that it's also quite literally its own city in geography as well, having been incorporated in 1984. And while it may be small — a mere 1.9 square miles situated between Beverly Hills to the west and Hollywood to the east — it's home to a wealth of landmarks, amenities, and culture.
It's also incredibly easy to access, with a walk score of 91 — something almost unheard of in Los Angeles County. In fact, this is one of the most walkable cities in all of California, and daily errands from ViveLA West Hollywood apartments will rarely, if ever, require a vehicle. To make things even easier, WeHo offers easily accessible public transportation and is very bikeable.
Nicknamed "The Creative City", the lifestyle here lives up to its moniker. Residents are inspired, dynamic, and embrace the glitz and glamour of their home. West Hollywood is home to the legendary Sunset Strip — two words synonymous with nightlife for decades. Whether you want to catch your favorite bands at the Whiskey or see legendary and up-and-coming comedians alike try out their material at The Comedy Store, WeHo is the perfect city for those who thrive in a bastion of creativity.
The Heart of LA's LGBTQ+ Community
Over a third of West Hollywood's residents identify as gay, lesbian, bisexual, or transgender. So it should come as no surprise that this city welcomes people of all orientations with open arms. Santa Monica Boulevard runs through WeHo and serves as the unofficial epicenter of the city's beloved LGBTQ+ community — with venues like The Abbey being staples of the gay nightlife scene.
ViveLA offers several West Hollywood apartments mere minutes from Santa Monica Boulevard, including Callie and Chloe, both located on N. Curson Avenue.
West Hollywood Amenities
As we've mentioned, West Hollywood is a welcoming city, which means it offers plenty of amenities that ensure its residents feel right at home. WeHo has no shortage of parks, trails, and attractions within its two square miles — the perfect place to spend the day outdoors!
Pack up a picnic and meet up with friends at Plummer Park, grab your fur-friend and head over to the West Hollywood Dog Park, adventure through the Runyon Canyon trail or take in the sunset at Kings Road Park (one of the most picturesque views in the city). With so many parks within this small city, you'll never have trouble finding a place to relax outside.
How about an adventure that's more artsy than outdoorsy? The Pacific Design Center is one of the world's most recognized and largest showrooms, where creative visions come to life. Wander through the artist galleries, have a coffee in the courtyard, and explore the many levels of futuristic showrooms. If you're an art and design enthusiast, this is a great place to spend the afternoon.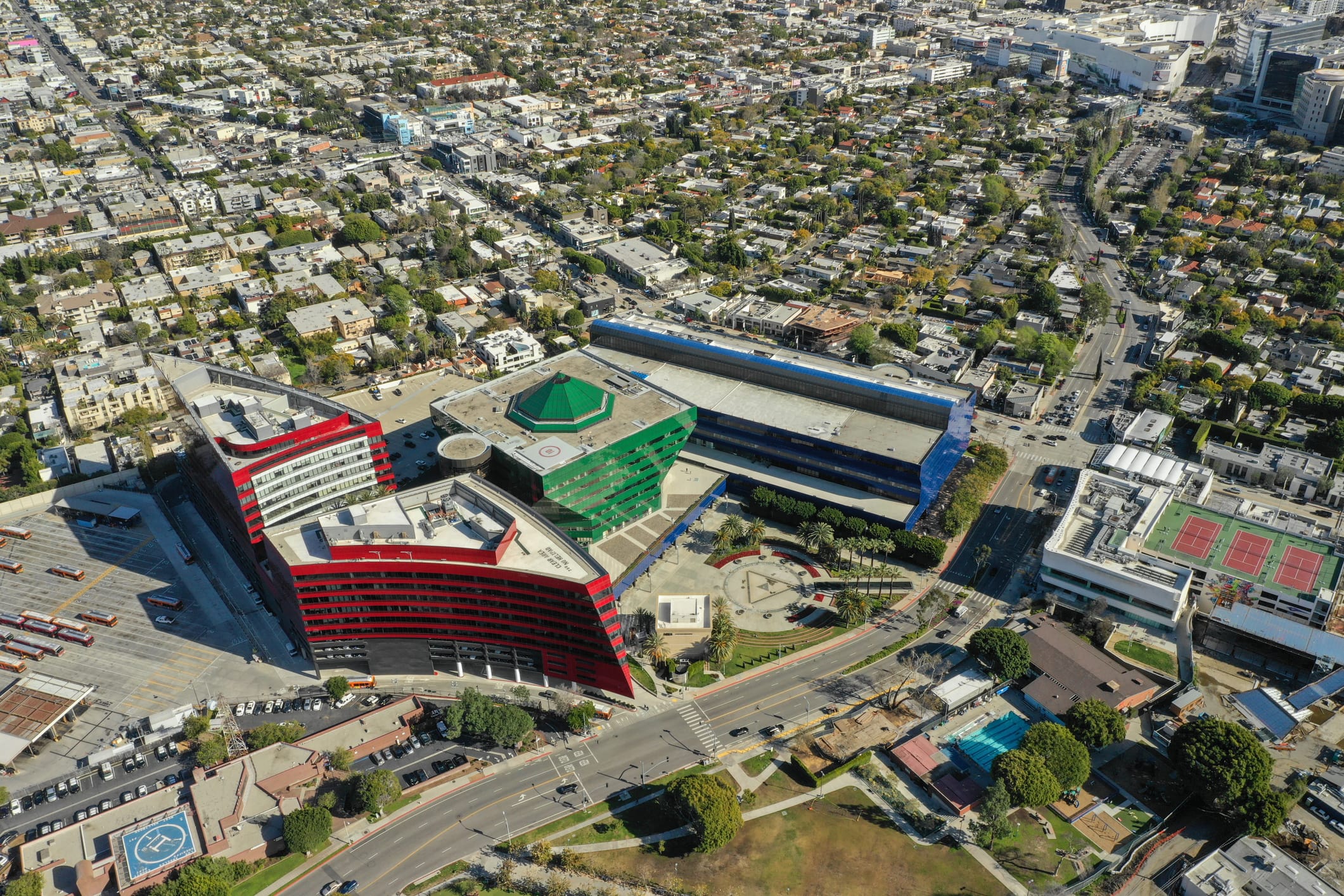 (Pacific Design Center) 
Not far from the Design Centre, the West Hollywood Public Library awaits. This is a great place to sit and read, study, or gather with a group to take part in one of the many seminars they host. More than just a home for books — this library hosts rotating exhibitions and cultural programs and is known as one of the country's largest and most innovative library systems.
Where To Eat
When it comes to food, West Hollywood's restaurant scene is as diverse as it is delicious. Every inch of WeHo is packed with long-time favorites and new flavors.
In WeHo, you're sure to find a vegan and vegetarian-friendly restaurant around every corner, but there's one spot that stands out amongst the rest: Pura Vita. This all-vegan Italian experience will wow you with their incredible flavors as they recreate traditional dishes to match their vegan vision. Enjoy their plant-based creations while you sip on delicious wines, organic cocktails, and enjoy their charming atmosphere.
Speaking of Italian, it's only natural that we talk about one of the most popular comfort foods: Pizza. The WeHo neighborhood is overflowing with pizza options — from wood-fired and brick-oven, conveyor or stone, there's sure to be a pie with your name on it! Pizzana West Hollywood is an excellent option for all pizza lovers, with a wide selection of delicious pizzas, appetizers, salads, and more! Their signature "slow dough" is made with a blend of Italian flour. It's light and easy-to-digest but never feels like it's going to fall apart when you pick it up with one hand.
You can't move to West Hollywood without knowing about the best takeout in the city. That's where we come in! Our friends at Kitchen24 have been feeding the WeHo neighborhood breakfast, lunch, and dinner for many years. Be a K24Life member and join their locals-only plan — a great way to score some free food and drinks! For every $24 you spend, you earn $2 in reward points. Save them up or use them on your next visit. Ideal for any takeout lover!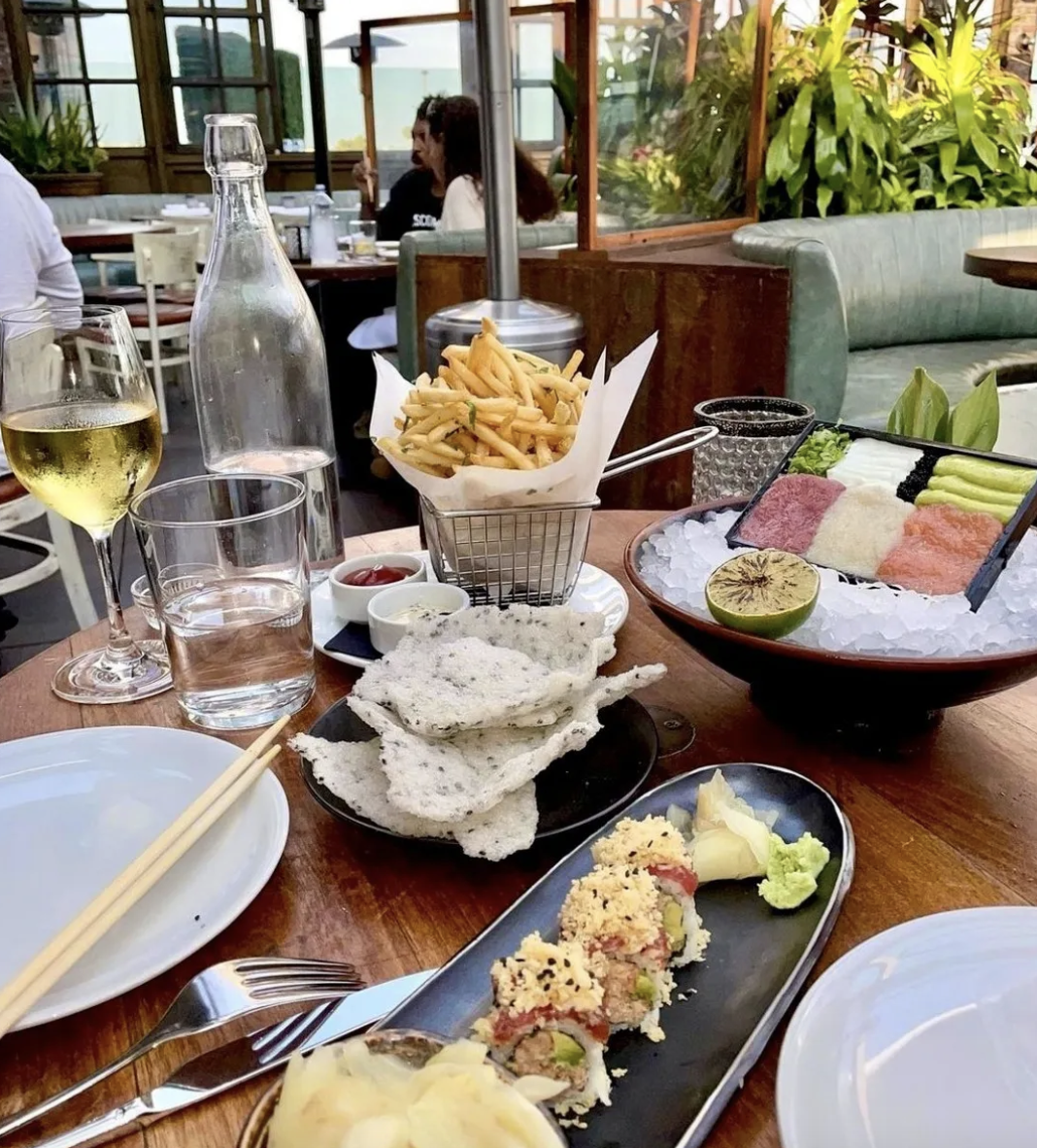 (Catch LA – Photo Courtesy: Instagram @visitweho)
Looking for more places to eat in West Hollywood? Check out some of these spots:
Bottega Louie
Night + Market
Formosa Café
Gracias Madre
Bossa Nova
Where to Drink
Everyone loves a good atmosphere, and in West Hollywood, you really can't go wrong. Known for its buzz-worthy bars and clubs, the scene here ranges from lounge to lavish.
Enjoy an old-fashioned cocktail and unique experience at Harriet's, a bar located on the rooftop of the 1 Hotel. And by old-fashioned, we don't mean the scotch drink — although, we're sure that's on the menu too! This 1920's inspired lounge is home to expansive city views and a carefully crafted menu, so you can enjoy the sights your city has to offer while sipping and savoring.
At the very end of the Sunset Strip, you'll find the Bootsy Bellows. This WeHo favorite is known as one of the best nightclubs in the area. This upscale venue is known for its elegant and stylish decor and a famous track record of bringing in some world-renowned artists.
Another hotspot of WeHo is The Abbey. We mentioned this spot earlier, but it's such a legendary nightclub, it deserves an encore! Within the LGBTQ community, The Abbey is iconic. Filled with electric energy, friendly staff, delicious drinks, and a lively atmosphere, it's the perfect place to gather with friends.
Shopping
How can you talk about West Hollywood without mentioning its vibrant shopping districts? From art and culture, beauty and design, to high-end glamour, this neighborhood is home to over 250 luxury retailers alone. But where to start?
First things first: The Beverly Center. This shopping center has it all — from your mall staples to the high-end stores, there's something to suit every shopper's style and budget. You'll likely be hungry after navigating through all the crowds and busy stores, so refuel at one of the sit-down restaurants or grab something from one of the many to-go options!
How about a change of scenery? Tucked along Sunset Blvd is the Sunset Plaza, a sleek and colorful shopping destination every WeHo resident needs to visit. This two-block outdoor retail strip is not just a place to shop — it's also a spot to sightsee and dine! If you're looking for luxury restaurants, spas, jewelers, and high-end fashion, this is the answer to all of your shopping needs.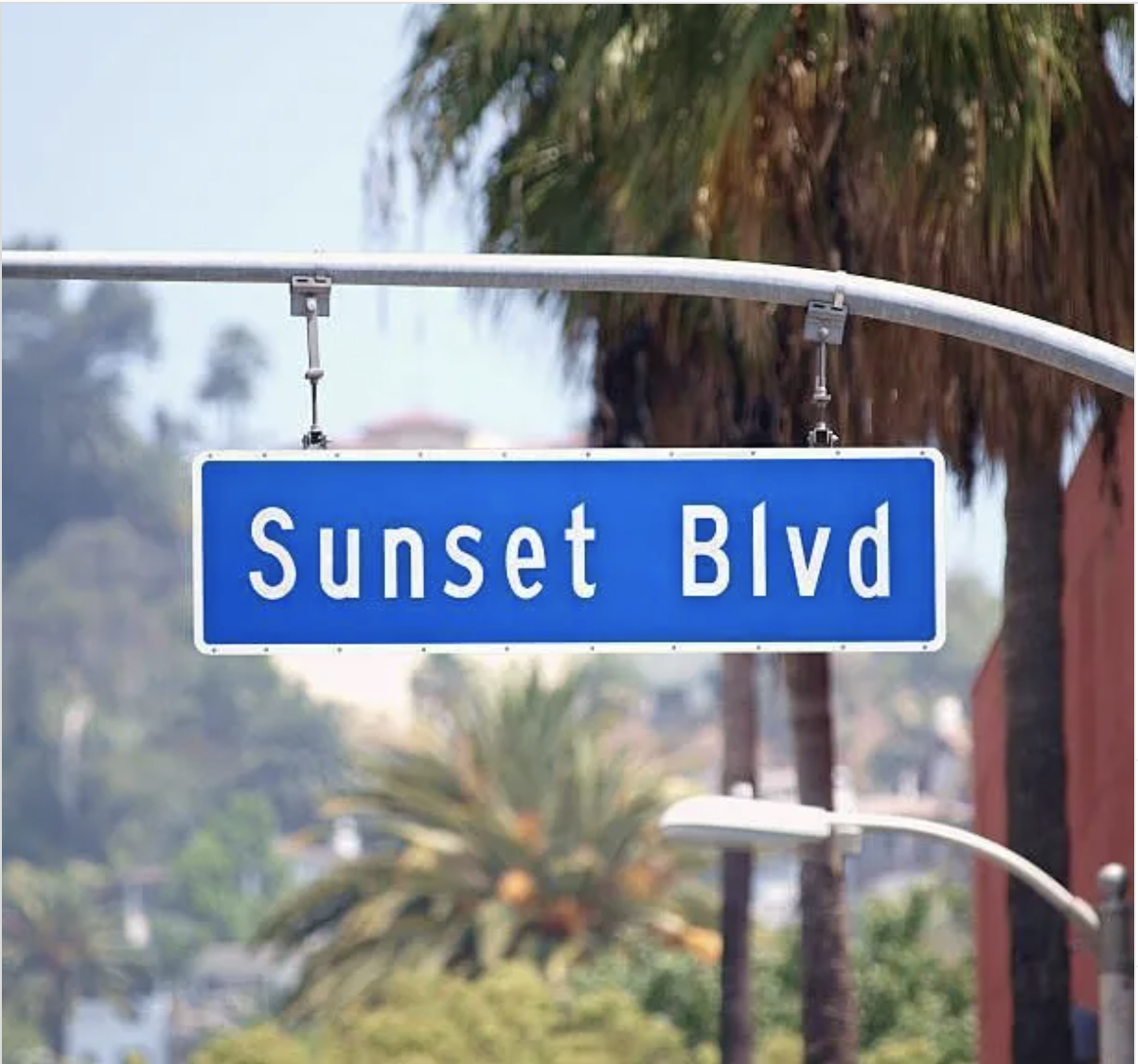 (Sunset Blvd – Photo Courtesy: Instagram @visitweho)
If you're a skincare or beauty enthusiast, make your way to the WeHo Detox Market. In a city that is so conscious of health and wellness, it's only natural to visit the world's best clean beauty marketplace. Explore their cruelty-free and organic cosmetics, chat with professionals, and enjoy the aromatic atmosphere of this wellness-centered shop.
The Neighborhood
Beyond the fact that WeHo is known for its energetic nightlife, shopping and sightseeing, it's also an all-around great neighborhood to live in. With seven West Hollywood apartment complexes, ViveLA makes it easy for you to make WeHo your new home. From studio and one-bedroom apartments to two and three-bedroom apartments, you'll find the perfect spot for you at one of our properties:
You'd be surprised at how much adventure and experiences can fit into 2 square miles! There's never a dull moment when living in WeHo, and ViveLA's centrally-located apartments make it easy to live where the action is. No matter where you choose to live, you're close to a WeHo staple.
We look forward to welcoming you WeHome here in West Hollywood. Learn more and check out our available leasing specials today.