Los Angeles Holiday Events Guide
Los Angeles Holiday Events Guide
by Vive LA Team December 20th, 2022
The holiday season is the most wonderful time of the year. And in Los Angeles, we're blessed with a balmy, snow-free experience, with average daily temperatures in December reaching the high 60s. It may not be the snow globe-like vision of the average holiday movie (and that's what we love about it!), but LA offers plenty to do and see throughout the festive season. You can celebrate Christmas, Hanukkah, the New Year, and more with plenty of Los Angeles holiday events taking place near Vive LA communities.
Vive LA's communities are located in LA's most happening neighborhoods—Beverly Hills, Echo Park, Koreatown, Hollywood, and WeHo, just to name a few. You're sure to find exciting events just a short drive away from any of our 24 locations. Here are some of the best events to take in this holiday season near Vive LA communities.
Holiday Fun in the Valley
From your home base of Vive LA's Magnolia community in Sherman Oaks, you can take in some spectacular holiday events in the Valley.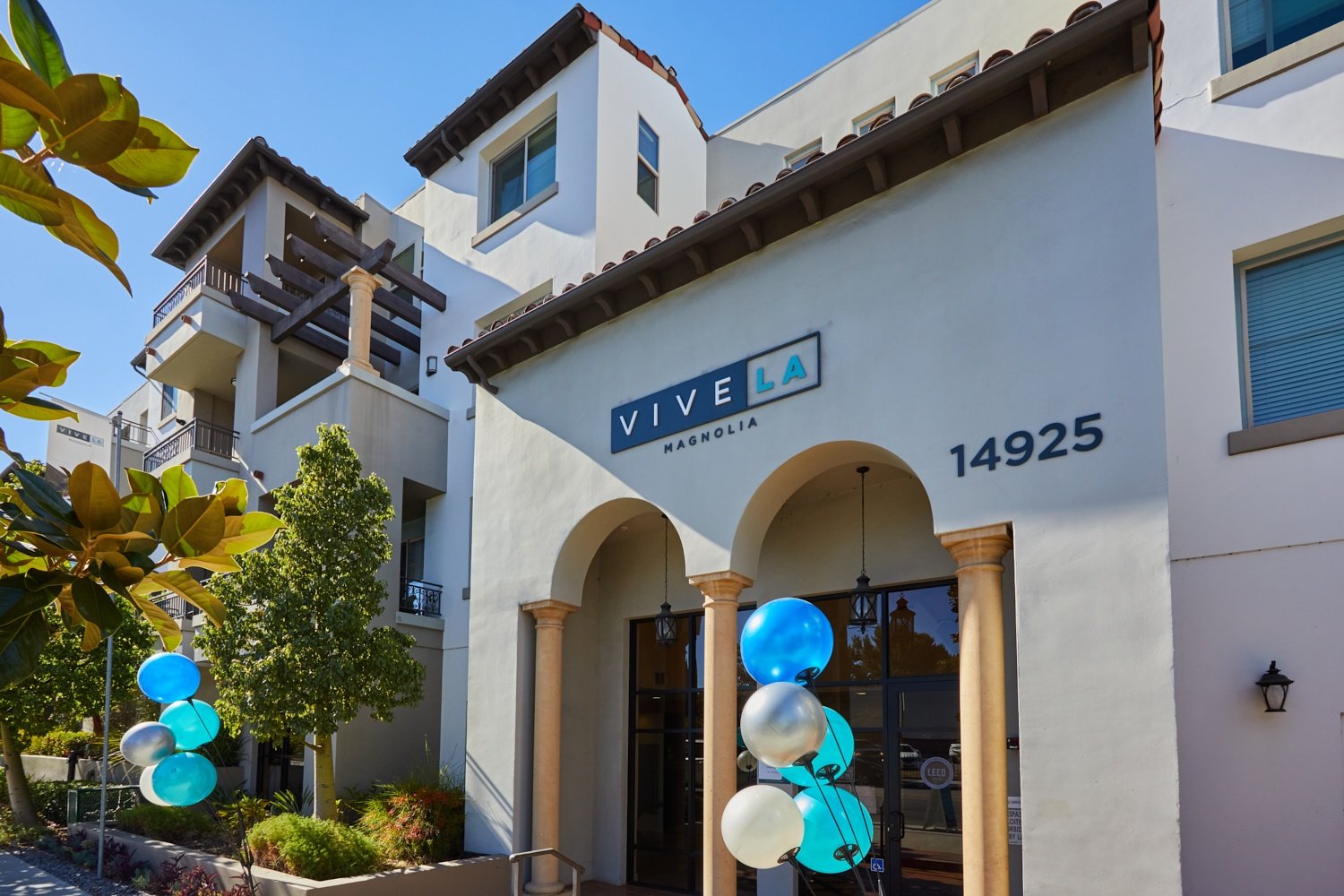 Light Up the Night at the Zoo
When you think of the holidays, you probably think of Christmas lights and nativity scenes. But do you think of glowing elephants, giraffes, koalas, and condors? Be dazzled by the spectacular lights and fantastical shapes of "Animals Aglow" at the LA Zoo in Glendale. While not strictly a holiday-themed event, this interactive spectacle is sure to make your spirits bright. About a third of the zoo's grounds will be lit up, so there's plenty to explore in this merry menagerie. Timed tickets are available in advance, so you can avoid the lines of this always-popular event.
Christmas Movie Magic at Warner Bros. Studio
If you're a holiday movie lover, you won't want to miss the opportunity to step onto the sets of some of the most legendary entries into the genre — and hear behind-the-scenes stories about how the classics came to be. Holidays Made Here at Warner Bros. Studio in Burbank offers a special holiday-themed tour exclusive to the festive season. Step onto the iconic Midwest Street Backlot, made famous as the set of Stars Hollow in Gilmore Girls, a picture-perfect all-American town like you see in all your favorite holiday movies.
Visit a Wintery Wizard Wonderland
What could be more magical than spending the holidays at Hogwarts? Whether you're a true Potterhead or a mere Muggle, you'll find yourself spellbound at Christmas at the Wizarding World of Harry Potter in Studio City. The halls of Hogwarts Castle will be decked, and festive decor mixes with wizardly wonder on the lit-up streets of Hogsmeade. Get festive with mugs of hot Butterbeer and listen as the famous Frog Choir sings seasonal melodies that are sure to get you into the holiday spirit.
Feliz Navidad at Casa Vega
Experience a delicious Los Angeles tradition like no other. Every year, the legendary Mexican restaurant Casa Vega in Sherman Oaks goes full fiesta with Christmas lights, tinsel, Santas, and more to celebrate the season. Enjoy a special holiday menu that includes snowball margaritas, Mexican coffee, and hot chocolate (served in holiday-appropriate Santa mugs, of course!). Casa Vega is a veritable food institution, and the holiday season is the perfect time to visit and enjoy its menu of Mexican favorites.
Get Holly and Jolly Near Hollywood
Vive LA's The Gershwin on Hollywood Blvd offers a perfect starting point for getting in the holiday spirit in Hollywood.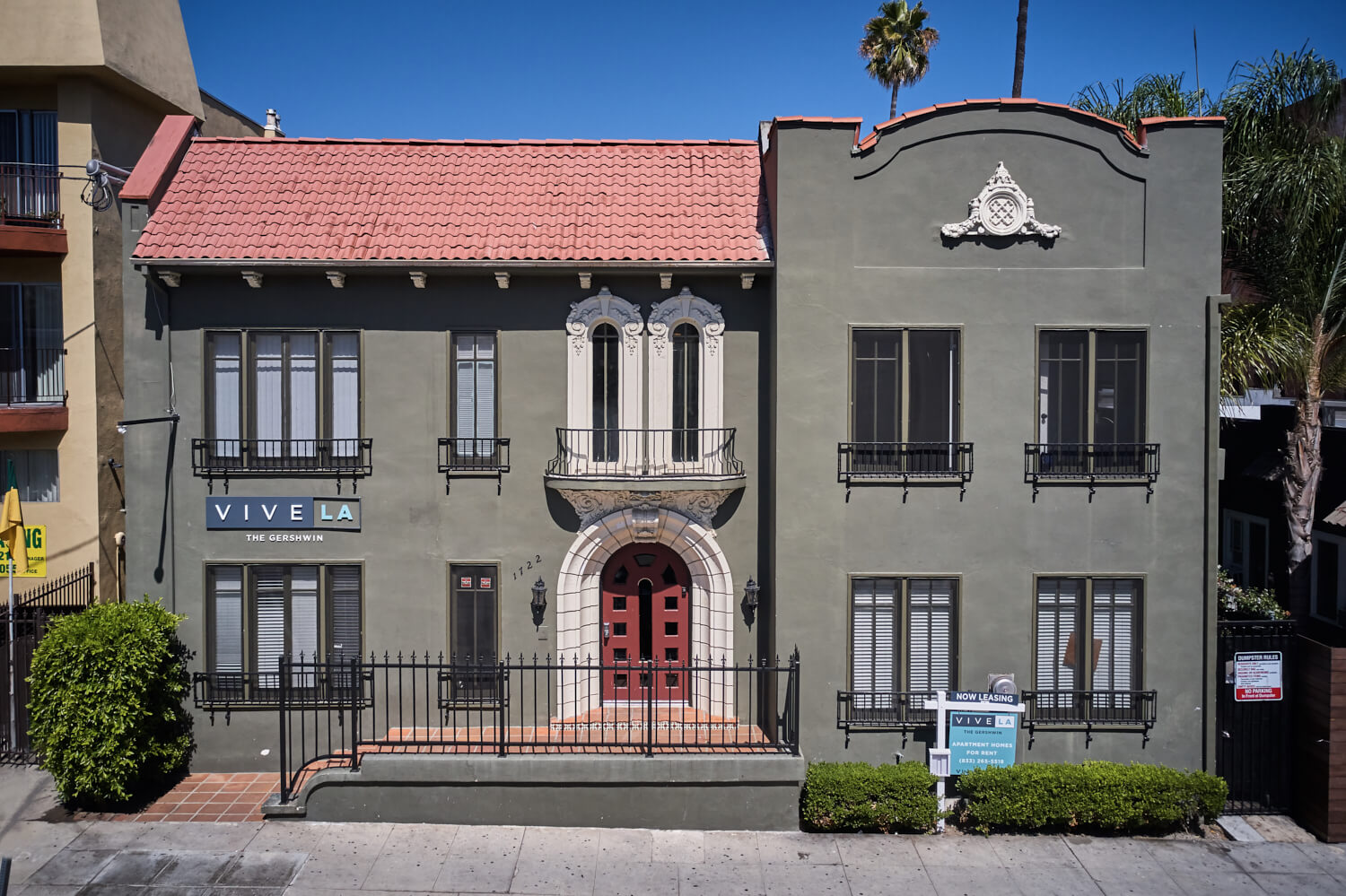 Shop Local Los Angeles
Who doesn't love holiday shopping? Los Angeles is a legendary retail destination and the holidays bring along even more reasons to get out and shop to your heart's content. Don't miss the annual LA Market, right downtown, where you can shop some of LA's best independent brands and artists. Get a free tote bag, sip on free drinks, groove at DJ lounges, pose in a holiday-themed photo booth, and take advantage of free gift wrapping! This market offers a collection of 150 designers, emerging brands, and artists, so you're bound to find the perfect unique gift for someone you love. Plus, you'll be shopping small, making a true impact on communities and local retailers. If you're searching for a Los Angeles Christmas market, this should definitely be on your list!
Scream "Ah!" for Home Alone in Concert
There are many reasons Home Alone has become a holiday favorite. Hilarious scenes of slapstick comedy, a heart-warming story, and unforgettable characters. But one of the most lasting impacts of the film is its iconic John Williams score. Hear it performed live by some of Los Angeles' most talented musicians at Home Alone in Concert at the Los Angeles Philharmonic. Conducted by David Newman, this special screening will feature the full score performed live. The Frank Gehry-designed Walt Disney Concert Hall is one of LA's most iconic buildings and just a short drive from the Gershwin.
A Classic County Celebration
When an annual holiday event has been running in Downtown Los Angeles for over 60 years, you know it's a solid way to prepare for the holidays. The 63rd annual LA County Holiday Celebration is back at the Music Center this Christmas Eve. The event showcases a diverse lineup of LA-based artists to honor the rich tapestry of artistic talent and cultural diversity that makes this city such a fun and fascinating place to live or visit. If you can't make it to the celebration in person, it will be available to watch or stream on PBS SoCal.
Holiday Movies in the Open Air
Take to the streets to enjoy some all-time favorite holiday movies al fresco at Yuletide Cinema Land in Montecito Heights. Choose from a lineup of some of the all-time classics: Elf, Home Alone, A Christmas Story, The Muppet Christmas, and more. Enjoy mulled wine, local craft beers, and more at LA's Heritage Square, a throwback to 19th-century life that displays a Dickensian charm in the holiday season.
Celebrate Between WeHo and Beverly Hills
The Beverly Arnaz sits in the ideal location between West Hollywood and Beverly Hills, with easy access to some of LA's best events.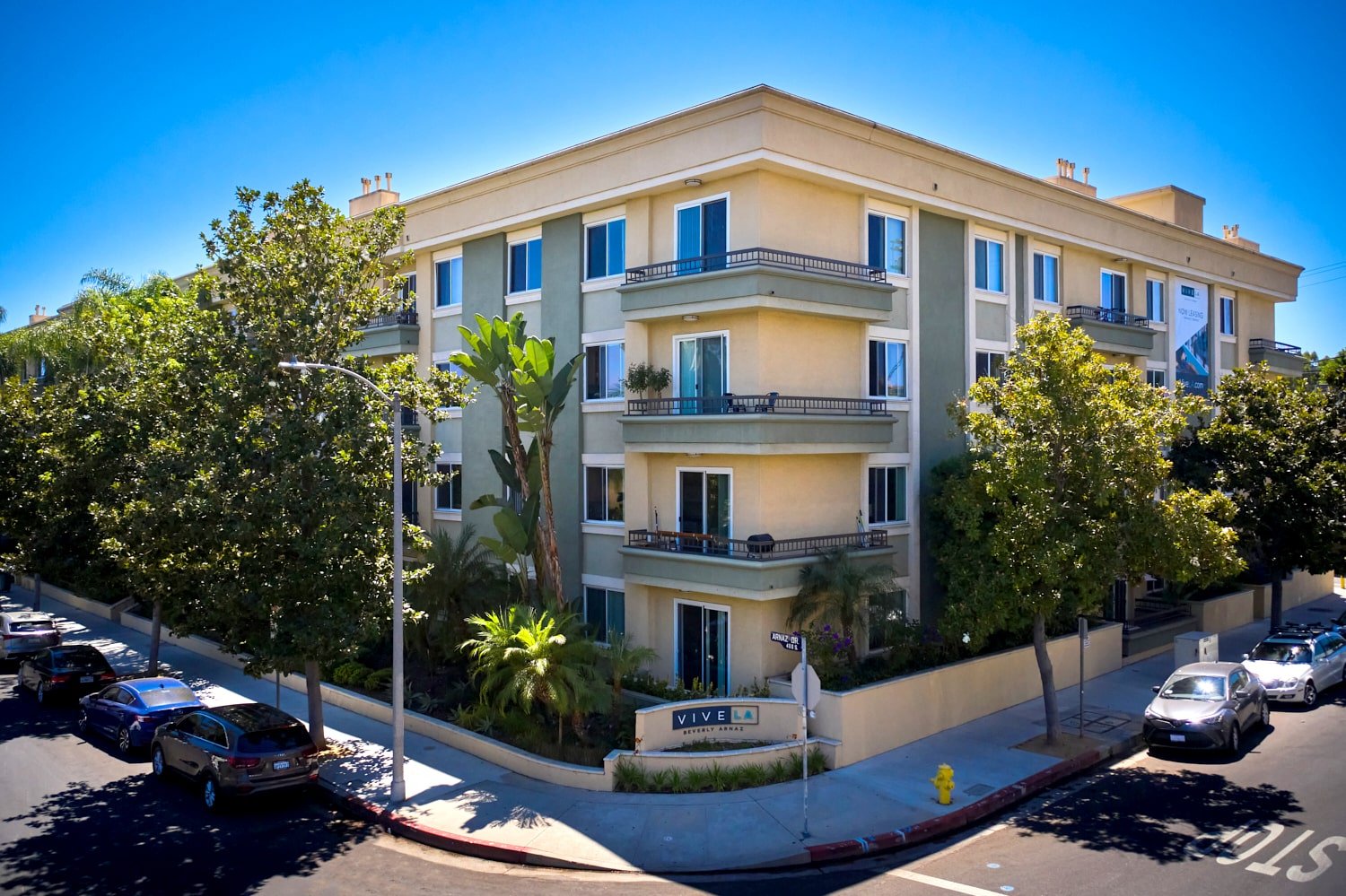 Festive Fondue
Looking for the perfect apres-ski experience in the heart of Los Angeles? You'll find it just 10 minutes from the Beverly Arnaz. Feel transported to Aspen or the Alps when you head to the Swiss Chalet Apres Ski Dining Experience at the iconic Fairmont Century Plaza hotel. Bring together your group for authentic fondue, a curated selection of winter cocktails, and a delightful menu of creative cuisine. What better way to get into the festive spirit than with holiday cookies and cocktails or s'mores by the chalet firepit?
Five-Star Luxury Festivities
Make your holiday celebrations truly unforgettable at the Peninsula Hotel Beverly Hills. Check out their special holiday deals or come together for a four-course Christmas Eve and Christmas Day dinner with family. The iconic hotel comes to life with holiday carolers, festive afternoon tea, a curated selection of specialty gifts for children, and much more. There's even something planned for Christmas morning, when Peter the Bear will be on hand to treat their youngest guests to gifts, hot chocolate, and cookies.
Beverly Center Christmas
Head to the Beverly Center, a legendary Los Angeles shopping destination just three minutes from the Beverly Arnaz, for a full suite of holiday programming. Grab a selfie at the Instagram-worthy holiday display featuring a 35-foot tree and mirrored gift boxes. Bring along friends, family, and even dogs for themed photos with Santa—from PJs to ugly sweaters, there's a fun theme for everyone. Enjoy live entertainment, including classic carolers, hip-hop nutcracker dancers, and a drag queen sugar cane fairy. The Beverly Center provides holiday events and celebrations you won't soon forget.
Meet at the Grove Tree
The gorgeous Christmas tree at The Grove is hard to miss, and you'll want to make sure you visit it during your holiday season in Los Angeles. Take a photo or two in this magical holiday setting, and plan around the full calendar of festive events taking place at this shopping metropolis. From a nightly snowfall (yes, in Beverly Hills!) to meetings with Santa and a Menorah lighting to celebrate the eight nights of Hanukkah, The Grove is a one-stop shop for holiday charm throughout November and December.
Make Koreatown Your Holiday Hub
The Violet on Virgil is the place to experience the best of Koreatown at any time of year, and the perfect hub for all your Los Angeles holiday celebrations.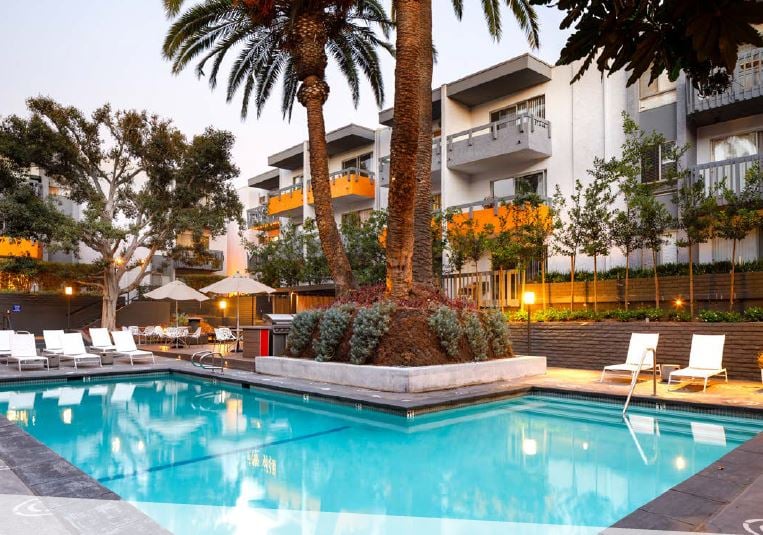 Ice Skate in Echo Park
Believe it or not, downtown LA becomes a great ice skating destination during the festive season. Head to Pershing Square Holiday Ice Skating Rink for the "hottest place to chill during the holidays". Open from November 23 to January 8, this is a totally unique and can't-miss holiday experience in the heart of downtown Los Angeles.
Explore Other LA Favorites
Hanukkah Happiness at the Skirball
Light the menorah, enjoy a plate of latkes and jelly donuts, and celebrate history with a special Hanukkah story reading. Take part in art workshops and learn more at the Skirball Cultural Center's Hanukkah Festival. This year's festival features klezmer rock, DJs, dancers, and theatrical performances to go along with a joyous community candle-lighting experience.
Light the Menorah in Culver City
Make Culver City your Hanukkah destination with a series of Menorah lighting celebrations at several locations. And it's not just about the lighting ceremony! Enjoy chocolate gelt, latkes, donuts, music, dreidels, and more! Spend some Hanukkah time in Culver City for a season to remember.
Make Vive LA Your Holiday Home Base
During the holiday season — and every season — Vive LA is close to some of LA's best events in the city's most happening hot spots, with 24 unique communities in 12 dynamic neighborhoods. If you want to be in the heart of the action and enjoy fabulous amenities at any time of year, Vive LA has a place for you. Book a tour and find your ideal Los Angeles home today.